To achieve our objectives we are building a team of exceptional people who are inspired by our vision, share our values, and have the attitude and skills required to help Acurable achieve its main goal: have a positive impact on the life of patients around the world. We are constantly looking for additional talent, so if you believe you share our values, and want to be part of a thrilling journey, we want to hear from you.
What we are looking for
Having the right skills and experience is essential, but at Acurable we place just as much importance on how well you fit with our team and company values. In particular, there are six key qualities we look for in everyone we work with:
THE RIGHT MOTIVATION
You care deeply about Acurable's mission and the greater good.
MAKE THINGS HAPPEN
You don't just talk about ideas or solutions to problems. You make them happen.
EVIDENCE DRIVEN
You do not extract conclusions based on unproven facts or opinions.
DRIVEN BY CURIOSITY
Learning is one of the things that you value the most in your life.
STRIVE FOR EXCELLENCE
No matter how big or how small a task is, you take pride in achieving high quality in everything you do.
COMPLETE INTEGRITY
You are truly honest and transparent in all circumstances, and you always lead by example.
What's in it for you
We provide a fun and entrepreneurial working environment, within an exciting fast-growing business where you can make a huge difference, and have the opportunity to progress into a senior position based exclusively on performance and value for the company, regardless of your age or experience. We offer a very competitive remuneration package, flexible hours, remote work, generous holiday allowance, cycle to work scheme, social events… and many other perks we continue adding as the company grows.
More importantly, working at Acurable gives you the chance to have a real impact, using your talent to make a difference to the lives of millions of people.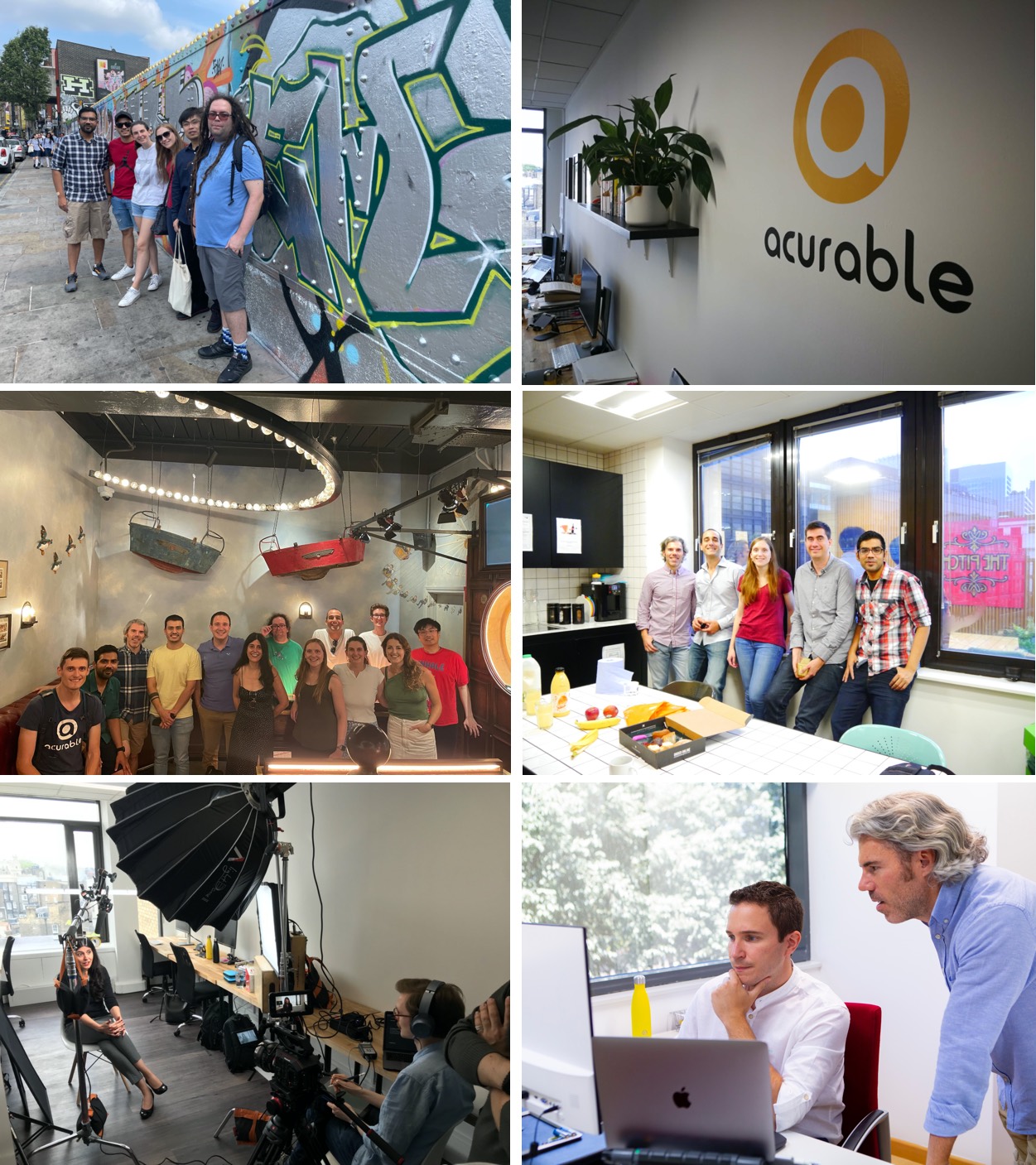 Interested in applying?
Our current job opportunities are accessible in the link below, but if you don't see one that fits your skills, you are welcome to send a speculative application to careers@acurable.com.